Burbank DUI Insanity—Like Father, Like Son
It's a theme this blog often covers: Someone gets stopped on suspicion of driving under the influence in Burbank (or elsewhere)… and that's when the REAL trouble starts.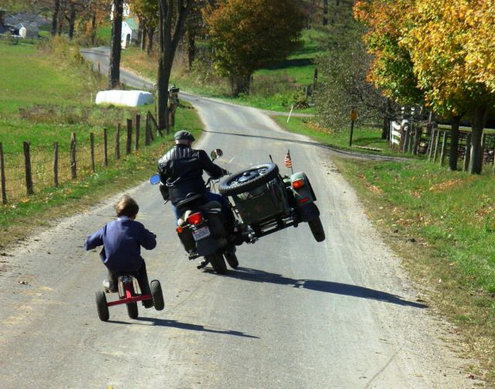 In other words, the suspect does something stupid after the police have already stopped him or her, and the net result is a hugely more problematic situation.
As an experienced Los Angeles DUI attorney will tell you, your Burbank DUI penalties can escalate wildly if you commit crimes after the fact, such as hitting a police officer, spitting a breathalyzer test back at the police officer, resisting arrest, committing a hit and run, etc.
A crazy case out of Central Pennsylvania illustrates how badly things can go wrong after the fact. Twenty-four year old David Peterson, Jr., was arrested after police found him passed out in his vehicle. The young man had a BAC of over twice the legal limit (the Burbank DUI legal limit, as defined by CVC Section 23152(b) is 0.08% BAC). No doubt scared and intimidated, Mr. Peterson called his father, 44 year old David Peterson, Sr., who promptly hopped in his vehicle and drove to the station to pick him up.
Surprise—the elder Mr. Peterson also had alcohol on his breath. After admitting to police that he had driven to the station, Mr. Peterson submitted to a breathalyzer test and was found to have a blood alcohol concentration of 1.5 times the state's legal limit. So guess what? He, too, got arrested for DUI.
On some level, this father-son DUI arrest sounds amusing: We leave it to the reader to speculate on the potential Freudian issues at play. On another level, it speaks to the point we were talking about earlier about how Burbank DUI suspects often engage in, shall we say, less-than-strategic behavior after the police arrive.
The younger Mr. Peterson faces a preliminary hearing on February 15, while his father faces a hearing on February 22.
Here are some good rules of thumb to help you stay out of trouble AFTER you've been tagged for a Burbank DUI:
1. Speak with a Los Angeles DUI lawyer as quickly as possible.
A good attorney can help you collect and synthesize evidence and statements, challenge police reports and tests, and generally give you a strategic path to avoid things like significant jail time, massive fees and court costs, California drivers' license-related punishments, etc.
2. Remember that the past is past.
Although you may regret consuming alcohol, narcotics, or medications and then getting behind the wheel, you can't undo the past. If you get stuck ruminating over what went wrong, you won't learn the appropriate lessons from what happened. Accept that what happened, happened. And move on by making smarter choices going forward.
3. Learn from what went wrong.
Even if the police wrongfully arrested you or messed up their investigative work or breathalyzer testing, you likely made some mistakes that put you in a position to become a criminal defendant. Spend some time thinking about and writing about what went wrong, and what you can do next time to circumvent that kind of problem.
For help with your defense needs, connect with an experienced Burbank DUI criminal defense attorney at the Kraut Law Group (2600 West Olive Avenue, 5th Floor, Burbank, California 91505 Phone: (818) 563-9810). Michael Kraut is an experienced former prosecutor (Harvard Law School educated) who has won the respect of peers and delivered results time and again at jury trials.

If you have been arrested for a DUI in Burbank or you are under investigation for driving under the influence in Southern California, please contact Los Angeles criminal defense attorney Michael Kraut for 24/7 assistance by phone at (323) 464-6453 or toll free at (888) 334-6344 or online.