Beverly Hills DUI Stunner: Judge Says to Lindsay Lohan: "You're Going to Jail"
Lindsay Lohan's post Los Angeles DUI saga took a scary new turn today, when Judge Schwartz warned the wayward actress "this case will involve jail time. Period."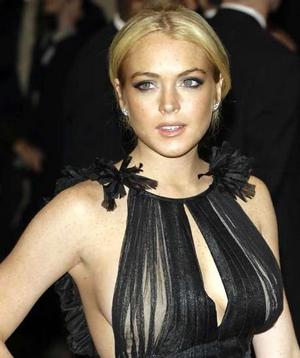 No, Judge Schwartz was not talking about another incident in which Lohan drove DUI in Pasadena, DUI in Burbank, DUI in Glendale, or DUI in Los Angeles. Rather, the stern admonition came in reference to Lohan's alleged grand theft of a $2,500 necklace from a Venice Beach jewelry store.
Today, prosecutors in Lohan's felony grand theft hearing offered her lawyer security footage of the "Mean Girls" actress allegedly stealing the necklace. Judge Schwartz had sobering words for the Lohan (quote courtesy Eonline): "This case does involve jail time… if this case is resolved in front of me, you're going to jail… There may be an issue as to the amount of time you go, of course… but… I don't want you under any apprehension. You will go to jail. Period."
According to a Chicago Sun-Times report about the case: "the plea deal offered by Deputy District Attorney Danette Myers was for six months in jail, likely to be reduced significantly for good behavior behind bars."
The actress is scheduled to return to court on March 10. If she loses her grand theft trial, it's possible that she could spend a significant amount of time in a California State prison — a year or more for the felony. A "longtime Lohan intimate" told the Sun-Times that such a scenario would be "very dangerous… a true nightmare, no matter what… she's been totally delusional about this… she's got to get this behind her and get on with her life, especially if she wants a chance of saving her career."
If you recall, Lohan is still on probation for her 2007 Los Angeles DUI. This issue complicates her already tenuous and fraught legal situation.
While Lohan's felony grand theft case has been getting a lot of media play, there are literally thousands of CA defendants every year who face similarly fraught and emotionally difficult choices about how to plead in Los Angeles DUI cases.
A Beverly Hills DUI with injury, for instance, can be punished as a felony pursuant to California Vehicle Code Sections 23513(a) and 23153(b). In other words, the very act of hurting someone while DUI can bump up a misdemeanor (still quite a serious charge) to a felony, thus leading to a potentially massive sentence increase.
A variety of factors can impact Beverly Hills DUI sentencing. For instance, say you're on probation for some other criminal offense; if so, the court may treat you more harshly. Or say this is your second, third, or fourth offense for Southern California DUI within a 10 year period — if so, penalties will be ratcheted up significantly.
To construct a powerful defense, look to a skilled Los Angeles criminal defense attorney. In Beverly Hills, count on attorney Michael Kraut of the Kraut Criminal & DUI Lawyers (located at: 9107 Wilshire Blvd., Suite 450, Beverly Hills, California 90210 Phone: (310) 550-6935)) to provide outstanding service, compassionate listening, and strategically grounded thinking. Attorney Kraut is an ex-prosecutor (14+ years) and a Harvard Law School educated lawyer who has an exceptional track record helping Los Angeles DUI defendants, even in tricky and complicated situations.

If you have been arrested for a DUI in Beverly Hills or you are under investigation for driving under the influence in Southern California, please contact Los Angeles criminal defense attorney Michael Kraut for 24/7 assistance by phone at (323) 464-6453 or toll free at (888) 334-6344 or online.