Beverly Hills DUI Shocker: Lindsay Lohan Charged with Felony Grand Theft. Electrified Blogosphere Reacts
In 2007, former child starlet and prominent celebutante Lindsay Lohan got arrested for driving under the influence in Los Angeles. Since that fateful stop, the beleaguered Lohan has been sent to jail three separate times for drug possession and violating her Los Angeles DUI probation. Today, the Los Angeles District Attorney's Office dealt yet another blow to Lohan — formally charging her with felony grand theft pursuant to allegations that the star stole a $2,500 gold necklace from a jewelry store in Venice.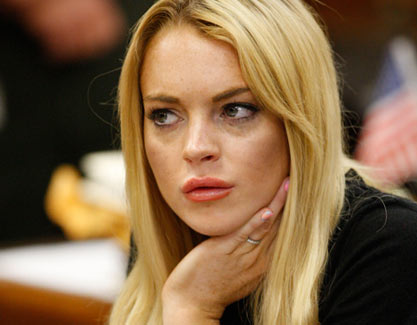 If you or someone you care about has been pulled over recently for Los Angeles DUI, Pasadena DUI, Glendale DUI, or Burbank DUI, chances are that you can at least be grateful that your case won't (likely) be scrutinized by every major media outlet and thousands of blogosphere commentators, like Lohan's has.
Here are key details on the breaking Lohan DUI news:
* If convicted, Lohan could face three full years in a California state prison
* The judge set bail at $40,000 and continued the hearing to February 23
* Judge Keith Schwartz said of the starlet: "You need to follow the laws just like everybody else. Look around this room. Everybody needs to follow the law… you're no different from anyone else, so please don't push your luck."
* Lohan's response? "Yes, sir."
* Lohan was also told to stay away from the jewelry store. Allegedly, she (or her deputized agents) sent the store a bouquet of flowers when the story started becoming big news.
Lohan has been tied to theft investigations in the past. These include:
1) An insinuation that she took $400,000 worth of jewels from an Elle Magazine photo shoot.
2) A 2008 allegation from a college student that Lohan stole a mink coat worth $12,000.
3) An April 2000 allegation that Lohan stole a Rolex watch worth $45,000.
Beverly Hills DUI penalties can be life-changing, even if you don't commit multiple probation violations, like Lohan has done. A first-time misdemeanor offender can face penalties such as a $1000 fine, 48 hours mandatory jail sentence, six weeks of alcohol school (max: nine months), a suspended drivers license (no restricted license allowed for school or work), and incalculable damage to your reputation and potential job prospects.
So what should you do, if you find yourself in a bind similar to the one Lohan has found herself in?
Talk to a qualified Los Angeles criminal defense attorney at once.
In Beverly Hills, you can get in touch with the Kraut Criminal & DUI Lawyers at 9107 Wilshire Blvd., Suite 450, Beverly Hills, California 90210 Phone: (310) 550-6935. Attorney Michael Kraut is a former senior deputy district attorney for the city. He served for nearly a decade and a half in this capacity. He understands how the system works and has the connections within the Los Angeles DUI community to strategize and execute your best defense.

If you have been arrested for a DUI in Beverly Hills or you are under investigation for driving under the influence in Southern California, please contact Los Angeles criminal defense attorney Michael Kraut for 24/7 assistance by phone at (323) 464-6453 or toll free at (888) 334-6344 or online.