Beverly Hills DUI News Blogger: Gérard Depardieu a No Show at DUI Trial, As He Escalates His Bizarre Behavior
This Beverly Hills DUI blog is not above covering international news, especially news that concerns celebrities like renowned French actor Gérard Depardieu – perhaps the greatest French actor of all time.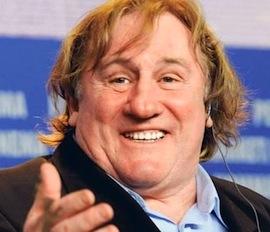 The 64-year-old Depardieu, however, has also had a colorful, if bizarre, recent history of criminal wrongdoings. Two years ago, he was arrested after he urinated in his seat on a plane, despite the pleas of fellow passengers and flight attendants. More recently, last November 29th, he drove his scooter while under the influence of alcohol to the tune of over four times the legal limit!
If you're arrested for a way-over-the-limit DUI in Beverly Hills, you can be hit with additional penalties, such as a harsher jail sentence, longer license suspension, more alcohol school, and other sundry penalties. According to news sources, Depardieu could have pled guilty to the charges, got dinged with a small fine, and been on his way.
Instead, the eclectic actor absconded from the country to Belgium. Not only did he ditch his January 8 hearing, but he now faces more serious criminal charges, which could net him up to two years behind bars on top of fines totaling nearly $6,000.
The actor's citizenship changes require a flowchart to track. Last December, he moved to Belgium to protest the high tax rates in France, prompting the leader of France's Socialist party to call him names. Meanwhile, Depardieu recently accepted Russian President Vladimir Putin's offer to make him a citizen of Russia, and he may move to Mordovia to become that region's Minister of Culture. Depardieu released a statement from Switzerland (confused yet?) regarding his status: "I have a Russian passport, but I remain French and I'll probably have dual Belgium nationality."
Good grief.
Obviously, Depardieu's legal fate – along with where he will ultimately reside – remain up in the air. But his legal situation is certainly fascinating. Of course, if you're facing a Beverly Hills DUI charge, you're much less concerned about being entertained and much more concerned about finding an appropriate, sharp Los Angeles DUI lawyer to deal with your charges in a sensible way.
The team here at the Kraut Law Group can help you. Michael Kraut is a highly esteemed lawyer with a great track record. Connect with him and his team for a free consultation today.

If you have been arrested for a DUI in Beverly Hills or you are under investigation for driving under the influence in Southern California, please contact Los Angeles criminal defense attorney Michael Kraut for 24/7 assistance by phone at (323) 464-6453 or toll free at (888) 334-6344 or online.