Beverly Hills DUI? How About the Opposite – DUI in Middle of Yellowstone National Park!
Let's face it: There are a lot more stories about celebrities driving under the influence in Beverly Hills and similar places (e.g. Burbank DUI, Pasadena DUI, Glendale DUI, Los Angeles DUI) than there are newsworthy events about people driving under the influence in national parks. And for good reason. The Southland is replete with millions of drivers, all of them competing to survive countless SIG alerts, smog, and each other. Out in the wide open, there are simply fewer cars and fewer chances for collisions or other problems.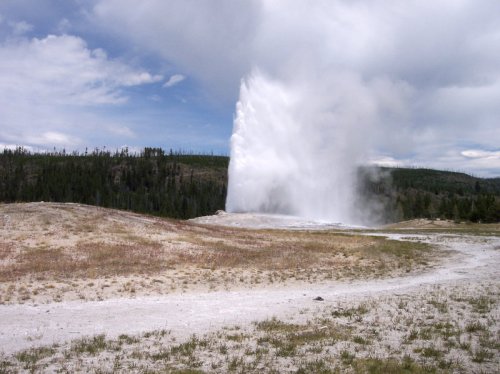 All that said, occasionally, wild stories do come literally out of the middle of nowhere. To wit, consider the case of two bus drivers accused of driving DUI in the middle of Yellowstone National Park while transporting middle school students. Park rangers arrested the two drivers from Karst Stage (names have not yet been released) near the north entrance. KBZK TV reported that the drivers were transporting nearly 100 7th graders from a local Montana elementary school. The owner of Karst Stage, Jerry Perkins, said the company complies with DOT policies and requires third-party drug testing for its employees. In a written statement, Perkins said: "We are reviewing our safety practices to determine what improvements may be made and are very thankful that every one arrived home safely from the field trip."
The Yellowstone DUI story barely merited a half page report from the Associated Press. But imagine if the details have been slightly different. Imagine, if instead of Yellowstone, the bus drivers drove DUI in the middle of Beverly Hills. And imagine if there had been an injury collision, and students had been hurt or killed. You'd likely see major front page stories and lots of public handwringing about "how to prevent something like this."
The fact is: DUI is a DUI, on some level. The difference between these scenarios is far smaller than you might realize. It's easy for friends, colleagues, and the media to villainize convicted DUI drivers. But this cartoonish characterization is incorrect and possibly even dangerous.
The moral of the story is: If you or someone you care about has been pulled over for Glendale DUI, a Los Angeles criminal defense attorney can help you strategize. Attorney Michael Kraut (of Beverly Hills's Kraut Criminal & DUI Lawyers, 9107 Wilshire Blvd., Suite 450, Beverly Hills, California 90210 Phone: (310) 550-6935) spent 14-plus years as a Los Angeles Senior Deputy District Attorney, during which time he accrued tremendous amount of knowledge. Attorney Kraut can leverage his unique experience and relationships to help you get results.

If you have been arrested for a DUI in Beverly Hills or you are under investigation for driving under the influence in Southern California, please contact Los Angeles criminal defense attorney Michael Kraut for 24/7 assistance by phone at (323) 464-6453 or toll free at (888) 334-6344 or online.