Beverly Hills DUI Cop Arrested for Driving Under the Influence… And Crashing into a House While Doing So!
If you've recently been charged with a Beverly Hills DUI, you can take some solace from strange news out of Simi Valley. Last Tuesday, an off-duty police officer for the City of Beverly Hills got arrested for DUI after he smashed his pick-up into power pole and house.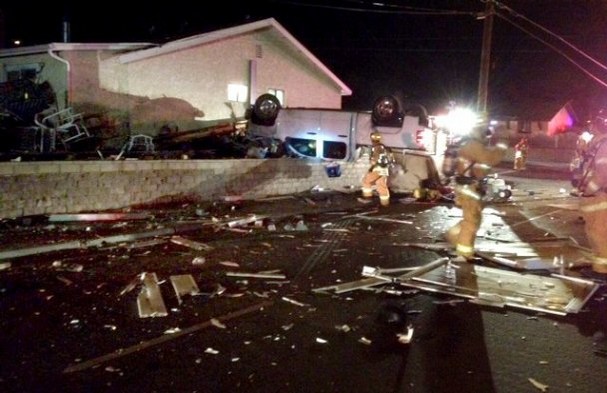 The force of the crash was so intense that his vehicle flipped over and landed on a wall. 42-year-old officer Jeffrey Sweet smashed up his car at Blackstock and Royal Avenue in Simi Valley. He complained about pain to responding officers and got treated at a local hospital in Simi Valley. Fortunately, no one else suffered injuries.
Sweet also exhibited the classic symptoms associated with Beverly Hills DUI, allegedly, and he was booked into jail in Ventura County after he got cleared from the hospital. The truck severed a gas line, stimulating a local evacuation. Investigators think that the officer failed to see a curve on Blackstock Avenue. The BHPD helped the Simi Valley police deal with the situation.
If you've been arrested for driving under the influence in Beverly Hills, you can probably relate to Sweet's frustrations and challenges ahead. It is indeed fortunate that no one got hurt in this crash – if you did hurt someone, even mildly, your charges could be escalated from a simple misdemeanor to a felony, pursuant to California Vehicle Code Sections 22153(a) or 22153(b).
Other factors that could complicate your legal situation include:
• Whether it's your first time arrested for Beverly Hills DUI or whether you are a recidivist;
• Whether you've been arrested and convicted of other criminal charges unrelated to driving under the influence;
• How you behaved after you were stopped by police – that is, were you belligerent or did you try to flee the scene;
• Did you cooperate with officers and rescue workers?
• Just how ìunder the influenceî were you?
• How powerful is the evidence that you, indeed, violated the law?
For instance, just because you failed a breathalyzer test – or even a blood test – does not mean that the test effectively measured your degree of DUI. An experienced Beverly Hills DUI criminal defense lawyer, like the Harvard Law School educated Michael Kraut, 8484 Wilshire Boulevard Suite 660B Beverly Hills, CA 90211-3220 Phone: (310) 550-6935, can help you develop a powerful strategy to manage all of your charges and your legal journey ahead. Connect with attorney Kraut today to get experienced assistance.

If you have been arrested for a DUI in Beverly Hills or you are under investigation for driving under the influence in Southern California, please contact Los Angeles criminal defense attorney Michael Kraut for 24/7 assistance by phone at (323) 464-6453 or toll free at (888) 334-6344 or online.