Another Coda to Lindsay Lohan's Los Angeles DUI Story: More Jail Time for a Failed Drug Test
This blog (and practically every other major and minor media outlet) has thoroughly covered Lindsay Lohan's Los Angeles DUI arrest – and its numerous codas, side stories, and other moving parts. Last week, another bombshell dropped – pursuant to the 24-year-old actress' failure to pass a court ordered drug test, Lohan will be heading back to jail.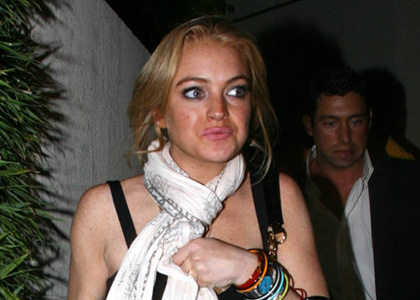 Lohan — who left her latest rehab on August 24th — twittered to her fan base about her current plight and demonstrated some contrition: "I am taking responsibility for my actions and I am prepared to face the consequences."
Last Friday, she went before Judge Elden Fox of Superior Court. According to a report from the gossip site TMZ.com, Lohan will likely have to go back to jail on October 22nd. Her jail sentence could stretch up to 30 days.
Lohan's saga – including probation violations, repeated reprimands by the court, etc – is sadly not uncommon among people charged and convicted of driving under the influence in Long Beach (and elsewhere in the Southland).
The more Southern California DUI convictions you get, the more stringent your sentences and penalties will be. A first time offender, for instance, may be hit with a misdemeanor, a one-year driver's license suspension, 48 hours in jail, a fine of up to a $1,000 (on top of court costs), mandatory alcohol school and more. But if you get convicted for a second or third time for a Long Beach DUI, your jail time, minimum alcohol school requirements, license suspension time, etc will all likely go up – and your probation terms will be far more restrictive.
If you get over three convictions within a 10-year span, you could face a felony charge.
Any Los Angeles DUI charge should be taken seriously – even if no one got hurt, and no property damage was reported. The strength of your legal representation can prove crucial.

To consult with a time tested, focused and results-proven attorney, look to the Kraut Criminal & DUI Lawyers in Hollywood. Attorney Michael Kraut served for nearly a decade and half as a city prosecutor – so he understands how the people who will be charging you think and work – and he could use both his Harvard Law School background and his experience "in the trenches" as a prosecutor to develop a coherent, strategic, and results-focused case for you.
If you have been arrested for a DUI in Long Beach or you are under investigation for driving under the influence in Southern California, please contact Los Angeles criminal defense attorney Michael Kraut for 24/7 assistance by phone at (323) 464-6453 or toll free at (888) 334-6344 or online.