Woman Arrested for DUI; Drags Cop by Her Car into Telephone Pole
Fortunately for police, most Los Angeles DUI arrests are not dramatic and do not threaten the life and limb of the people involved in the process.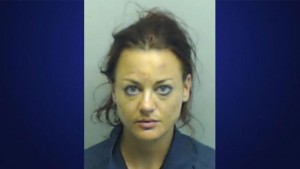 That's not always the case.
For a spectacular example, we turn our sites to Atlanta, Georgia, where on Monday, a local woman named Anna Dittmer was involved in a catastrophic, freakish accident that sent a police officer to the hospital and left Ms. Dittmer with plate full of criminal charges.
Local officers said they saw her vehicle stopped next to some railroad tracks in the Northwest section of Atlanta. They had reason to believe she was impaired, so two officers approached her. Meanwhile, a train approached at that very moment and blew a warning sign, which woke Dittmer up. She allegedly saw the police come for her and tried to hightail it out of there.
Officer Kevin Thigpen reached in to try to stop her, but she took off and dragged him along with her car and then smashed into a telephone pole. Fortunately, Thigpen survived, but he did suffer abrasions and lacerations over all his body as well as a broken left hand. Medics treated him at Grady Memorial Hospital in Atlanta.
Other officers, meanwhile, arrested Dittmer on a laundry list of charge, including: reckless driving, driving on a suspended license, possessing methamphetamines, felony obstruction, aggravated assault, giving a false name to police officers, causing a serious injury with a motor vehicle, and drug DUI.
Prior to the incident, police had a warrant out for her arrest on possession of dangerous drugs.
The whole situation is obviously very sad and disturbing. Just a charge of hurting someone while DUI can elevate a standard misdemeanor (per California Vehicle Code Section 23152) to a much more serious felony charge (per California Vehicle Code Section 23153).
And if you hurt a police officer, drove on a suspended license, or did any of the other crazy things that this Atlanta woman allegedly did, your charges can be more intense, and your defense can become more complicated.
No matter what charges you face, you can turn to the team here at the Kraut Law Group for effective, fair and responsible Los Angeles DUI defense help. Call or email us now for assistance.

Did police stop you for driving under the influence in Los Angeles? Contact DUI defense attorney Michael Kraut for assistance at (323) 464-6453 or online. We're located at 6255 Sunset Boulevard, Suite 1520, Los Angeles, California 90028.