Why It's Helpful to Have an Ex-Prosecutor Work on Your Los Angeles DUI Defense Case
Why do so many Los Angeles DUI defendants trust Attorney Michael Kraut of Kraut Law Group? One reason is that Mr. Kraut spent 14 years "on the other side" as a widely respected, highly accomplished criminal prosecutor.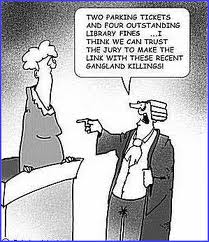 Here are three reasons why working with an ex-prosecutor makes tons of sense.
1. An ex-Los Angeles DUI prosecutor understands how your prosecutor will think and negotiate.
A baseball coach who actually played pro ball will have insights into the sport other coaches (who never made it to the "The Show") won't. Similarly, a nutritionist who heals herself through diet will understand what it's like to go through diet struggles in ways that her "healthy from the get go" colleagues. Likewise, criminal prosecutors can develop deep insight into the prosecutorial mindset that defense-attorneys-for-life will never have. Sometimes, that intuitive empathy can give an edge.
2. Looking at the law "from both sides" can lead to unique solutions.
Your Los Angeles DUI case is a negotiation, technically speaking. It's a conversation between your defense team and the prosecution to come up with an effective solution (punitive or otherwise). In any negotiation, stakeholders who invent more options often get better results. A former prosecutor can help invent options that might not be apparent to Los Angeles DUI lawyers who have only practiced defense.
3. Some ex-prosecutors remain very close to their former colleagues, and those relationships can be important.
Attorney Kraut, for instance, currently works as a criminal defense attorney. But he remains well respected by other prosecutors, police officers, et cetera. He uses these relationships (ethically, of course!) to help his clients navigate their complex situations, so that everyone involved wins.
For help with your Los Angeles DUI defense, turn to Harvard Law School educated attorney Kraut.

If you have been arrested for a DUI in Los Angeles or you are under investigation for driving under the influence in Southern California, please contact Los Angeles criminal defense attorney Michael Kraut for 24/7 assistance by phone at (323) 464-6453 or toll free at (888) 334-6344 or online. We're located at 6255 Sunset Boulevard, Suite 1520, Los Angeles, California 90028.