Tennessee's Anti-DUI Campaign Called Sexist
If trends for arrests for DUI in Los Angeles follow national averages, police pick up more men than women for the offense. (According to DrunkDrivingStats.org, the ratio for the arrests is four to one.) In addition, males between the ages of 21 and 34 are responsible for 32 percent of all DUI episodes.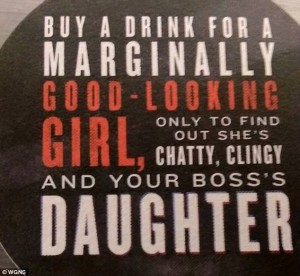 Statistics gathered by the Tennessee Department of Security and Homeland Security showed similar trends in the Volunteer State, where police officers arrested three times as many men as women for DUI from 2010 to 2014.
So you can understand the reasoning of Tennessee officials who thought that anti-DUI advertisements should aim at catching the attention of young men. However, the way that the Governor's Highway Safety Office approached the task of spreading the message brought widespread criticism.
The advertising campaign featured TV and radio ads, social media and table tents, coasters and fliers distributed to bars across Nashville. The ads offered messages like "After a few drinks, the girls look hotter and the music sounds better. Just remember: If your judgment is impaired, so is your driving." Another read: "Buy a drink for a marginally good-lucking girl only to find out she's chatty, clingy and your boss's daughter. If this sounds like something you would do, your judgment is impaired."
Needless to say, the campaign soon drew fire from women and from public officials who denounced it as sexist. The controversy grew even more heated when news sources found—under the Freedom of Information Act—that the state had spent $800,000 for advertising blitz. State officials quickly apologized and stopped the advertising.
Do you need assistance constructing an appropriate response to a DUI charge? Look to the Kraut Law Group's Michael Kraut for insight and peace of mind. Mr. Kraut is an experienced Los Angeles DUI attorney with many relevant connections in the local legal community.
If police arrested you for Los Angeles DUI, you may feel scared and confused. Contact Harvard Law School educated, ex-prosecutor Michael Kraut for assistance at (323) 464-6453 or online. We're located at 6255 Sunset Boulevard, Suite 1520, Los Angeles, California 90028.