Not all Los Angeles DUI incidents are terrifying.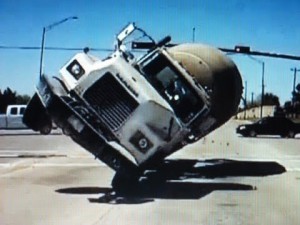 But when truck drivers get behind the wheel while DUI or under the influence of drugs — and then drive recklessly — they can endanger not just themselves but also dozens of people.
Witness what happened earlier this year, when a FedEx truck driver careened out of control on the 5 near San Francisco and hit a school bus, leading to dozens of injuries and many fatalities. Fortunately, a Sunday evening accident on the 101 at Lindero Canyon Road did not lead to fatalities, but it certainly could have.
The big rig driver — who was later arrested on suspicion of DUI — allegedly had some serious driving issues on Sunday night prior on the 101. According to California Highway Patrol Officer, Monica Posada, "the big rig was eastbound with an empty trailer and prior to the collision was reported reckless… the driver drifted to the right shoulder and travelled left across all lanes, colliding into the center divider. The driver exited the big rig, and it caught fire from the spilled diesel."
In addition to burning up to concrete divider, the big rig spilled debris and diesel fuel all over the road, creating a big mess, not to mention serious hazards for police and cleanup crews.
Luckily, emergency workers did not have to navigate that hellish complex of obstructions and dangers to rescue anybody. However, in other similar accidents, the situation can be far grimmer.
If you're a truck driver accused of driving DUI, you can lose your license, your job and your ability to drive other commercial trucks. Your insurance rates can spike, making you less hirable, and you can go to jail. You can also be subject to special approbation, if you drove a commercial or government vehicle.
The point is that you may face an amalgam of trouble.
Fortunately, the team here at the Kraut Criminal & DUI Lawyers can provide a confident, thorough and compassionate defense for you. Please contact us immediately to schedule your Los Angeles DUI truck defense, or peruse Mr. Kraut's website to learn more about him, his team, and their approach.
Continue reading