What lessons do celebrities learn after getting arrested for DUI in Los Angeles?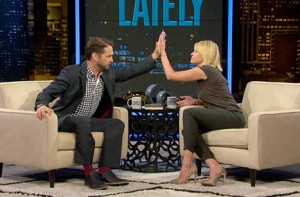 TV personality Chelsea Handler and actor Jason Priestley (of Beverly Hills 90210 fame) discussed their respective DUI arrests recently on Handler's talk show, Chelsea Lately. Priestley got arrested in 1999, as a young actor. Handler also got arrested for DUI young — at the tender age of just 21.
So what did they learn from their experiences? Here's a transcript of their exchange:
Priestley: "what self-respecting Los Angeleno doesn't have a DUI under their belt? I mean, come on."
Handler and Priestley then high-fived.
Handler: "The important thing is not to get two."
Priestley: "You get one. Lesson learned."
Priestley recounted his experience of meeting a bunch of Russian men in jail, after being arrested. First, they seemed stunned to see the actor — who was quite famous at the time, since Beverly Hills 90210 was a hit show. Then one rough man came up and "grabbed me and hugged me… he picked me and he carried over me over to the table and he put me down, and I just sat down and started playing cards with these guys. I played cards with them for five days. I had no idea what the game was … I got out of there in one piece … that's all I care about."
DUIs are certainly no laughing matter, and it's perhaps a bit disrespectful to chortle about them and high-five about DUI defenses on national TV. But both celebrities have remained out of harm's way and avoided driving DUI since their arrests — and that's also important. According to the stereotype, DUI defendants are grizzled and incorrigible. They are doomed to commit other offenses and hurt people on the road.
But most people who get arrested for minor offenses manage to get themselves together, rehabilitate their image, deal with their prison sentence, etc. Even if you caused minor injury to someone — and now face charges per the felony DUI code, 23153, instead of 23152 — with the appropriate strategy, you can rebuild your life and leave your DUI behind you.
The first step is to connect with an experienced, effective Los Angeles DUI defense attorney. To that end, call the Kraut Criminal & DUI Lawyers right now to speak with attorney Michael Kraut about your defense possibilities, so that you can make smarter decisions and get results.