Scary Southern California DUI News: CHP SWAT Team Called in to Detonate Pipe Bomb Found in DUI Driver's Van
Southern California DUI events are dangerous, in and of themselves.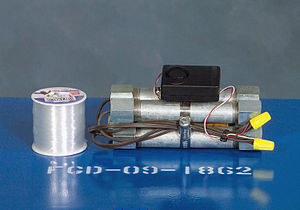 If you drive under the influence of drugs, alcohol, or even prescription medications, your ability to react to unexpected conditions on the road, emergency signals, strange weather conditions, etc can be horrifically impaired.
Usually, the DUI driving is the most scary 'part' of any DUI stop. However, that's not always the case! Consider a seemingly routine DUI stop up in San Jose that got totally out of control, when local police discovered that the driver had a bomb in his van.
According to news reports, the San Jose Police Department stopped a 1998 Ford Windstar van near the 101 and First Street at around 8:45 p.m. last Wednesday. Police became suspicious while chatting with the driver; and they searched the van. They discovered significant evidence to bust 35-year-old James Magill and hit him with narcotics charges and a DUI.
They also discovered a live pipe bomb!
A SWAT team was summoned to the scene, and police shut down streets around the area. The SWAT team prepped for hours before detonating the pipe bomb in a controlled explosion. Local residents felt and heard the blast. One person living nearby said he felt his entire apartment shake from the controlled detonation. No damage or injuries resulted, fortunately, and the 'uncooperative' Magill got booked on a number of charges, including DUI and possession of a destructive device. He was held without bail at County jail.
An investigation into the situation is ongoing.
Hopefully, your Southern California DUI was less scary. The vast, vast majority of people who are arrested for driving under the influence intend no harm. They either misjudge their own ability to metabolize alcohol or make other poor judgment calls.
To manage the aftermath of your DUI arrest effectively, you likely need substantial help from an experienced Los Angeles DUI criminal defense attorney.
The Kraut Law Group's Michael Kraut has a wealth of resources, experience, and connections to inform you and help you fight back against the charges. The best defenses involve both a deep and realistic appreciation of exactly how much trouble you are in as well as a success focused vision of an ideal conclusion to your case. Attorney Kraut is an ex prosecutor with a Harvard Law School background. He has the common sense, intuition, and experience to help you maximize your likelihood of prevailing.

If you have been arrested for a DUI in Los Angeles or you are under investigation for driving under the influence in Southern California, please contact Los Angeles criminal defense attorney Michael Kraut for 24/7 assistance by phone at (323) 464-6453 or toll free at (888) 334-6344 or online.