Pasadena DUI Sports News: Evan Rodriguez (of the Chicago Bears) Nearly Twice the Legal Limit (0.17%)
The story of Chicago Bears' fullback Evan Rodriguez may be an important cautionary tale for Pasadena DUI defendants.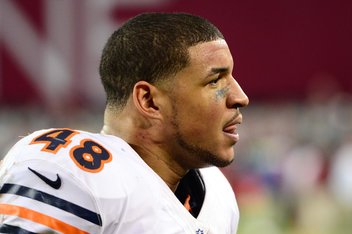 On May 31, Illinois State Police stopped Rodriguez on the Kennedy Expressway (early in the morning) and tested him to have a BAC of 0.17%. For those of you keeping score, that's nearly twice the legal limit for Glendale DUI of 0.08%, as set forth in California Penal Code Section 23152. Coach Phil Emery chastised Rodriguez early in the off season, when the fullback got into a scrape with police in Miami Beach. Police cited him for speeding and improper lane usage on I-90. Taken in context with his March arrest for resisting a police officer, the situation doesn't auger too well for Rodriguez.
If you were arrested for extreme DUI in Pasadena (more than twice the legal BAC limit), you could be subjected to extra penalties, including extra jail time and very restrictive probation terms.
Meanwhile, elsewhere in Cook County, a 53-year-old grandma got convicted of her seventh DUI on May 30th. The woman went drinking before she picked up her one-year-old grandchild from a local daycare. A jury convicted her of a special kind of crime – a Class X felony – and she faces up to 30 years behind bars.
According to news reports, police arrested Jenkins in April 2012, after she picked up her granddaughter at the Community Child Care Center of Palatine Township. Daycare workers were concerned. They thought she had been drinking. They saw her stumbling. After she hit another car while leaving the daycare, workers called the police, who stopped her on Quentin Road and subjected her to a field sobriety test.
Her breathalyzer tests were not sufficient to provide a reading, but witnesses at the daycare believed that she had been under the influence. In his closing statement, a prosecuting attorney told jurors, "the assistant director came out and pled for the defendant not to drive away, that she would call a cab. The defendant told her to go to hell."
The law treats recidivist Pasadena DUI defenders very seriously. In fact, if you're pulled over for a "standard DUI" — and you've already been convicted twice for DUI in the last 10 years — prosecutors can automatically elevate your charge to a felony.
This means that, instead of facing a few hours or days behind bars, you could face a half a year – or much more, particularly if you hurt someone, pulled a hit and run, resisted arrest, et cetera.
Building a strong defense against Glendale DUI charges is a challenging business, even if you have grounds to challenge the breath test or dispute the police's version of events.
Fortunately, you don't have to wage this battle on your own. The team here at the Kraut Law Group is standing by to give you sensible, effective guidance. Connect with a former prosecutor and Harvard Law School educated attorney today for help to get the results you want for your Pasadena DUI case.

If you have been arrested for a DUI in Pasadena or you are under investigation for driving under the influence in Southern California, please contact Pasadena criminal defense attorney Michael Kraut for 24/7 assistance by phone at (626) 345-1899 or toll free at (888) 334-6344 or online. We're located at 790 East Colorado Boulevard, 9th floor, Pasadena, California 91101.