Pasadena DUI News: Extreme BAC Level Shocks Arizona Cops
Were you recently stopped and arrested for driving under the influence in Pasadena? Did you have to submit to a breath or blood alcohol test? If so, odds are that your BAC was substantially lower than 0.328% – the reported BAC level of a 52-year-old Arizona man caught speeding on County Route 1 in Mohave County, AZ.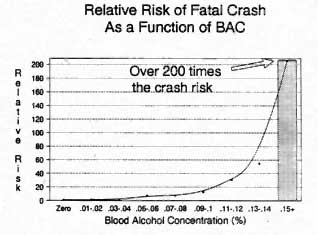 According to reports, police pulled Scott Jarc over at around 4 AM and noticed an extreme smell of alcohol coming from his vehicle. "Odor of alcohol" is one of the classic symptoms of Pasadena DUI, by the way.
Jarc admitted to having consumed alcohol earlier in the evening, and field sobriety tests confirmed the suspicions. Jarc's BAC reading of 0.328% was four times the legal limit for DUI in Pasadena, as defined by California Vehicle Code Section 23152(b), of 0.08% BAC. As a result of this extreme BAC, he got hit with four different charges, including standard DUI of 0.08%, DUI over 0.15%, and DUI over 0.20%. Authorities said that Jarc was lucky to have survived that amount of alcohol in his system – guidebooks suggest that 0.35% BAC is the equivalent of a surgical anesthetic, and that level can lead to coma or death. At 0.40% BAC, you can suffer respiratory arrest and other serious medical problems, including death.
Jarc's extreme BAC is actually not the most extreme BAC ever recorded on a DUI driver or other person. In fact, in one of our blog posts about a year ago, we reviewed even more extreme BAC cases – people who allegedly had BAC levels of over 0.80% or even above 1%! Seems impossible, but apparently people have sustained that level of intoxication and survived.
Bouncing back after a Pasadena DUI charge is not easy to do, particularly if your charge is complex or confusing. The positive news, if that's even an appropriate word to use, is that the professionals at the Kraut Law Group in Pasadena (790 East Colorado Boulevard, 9th floor, Pasadena, California 91101 Phone: (626) 345-1899) can help you manage your next steps effectively. Michael Kraut is an ex-prosecutor for Los Angeles – he actually served as a Senior Deputy District DA. Connect with Attorney Kraut today for an immediate, complete, and stress-reducing complimentary consultation about what to do next.

If you have been arrested for a DUI in Pasadena or you are under investigation for driving under the influence in Southern California, please contact Los Angeles criminal defense attorney Michael Kraut for 24/7 assistance by phone at (323) 464-6453 or toll free at (888) 334-6344 or online.