Pasadena DUI Homicide? Not Quite. No One Died. But Could Have Been a Lot Worse – KY Representative Arrested for Driving DUI… while Carrying Loaded 38-Caliber Gun!
Fortunately, cases of Pasadena DUI vehicular homicide are relatively rare.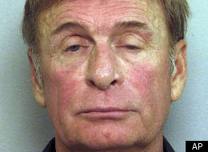 But you might be surprised by the number of "near misses" that occur on Pasadena's streets and freeways every day. Even drivers who use "best practices" – who never drive while under the influence of drugs or alcohol, drive while fatigued, drive while distracted by a cell phone, etc. — can easily get into trouble. After all:
A) Life is uncertain on a fundamental level.
B) Driving in Southern California is anything but a cakewalk, as regular commuters on the 405, 5, 101, etc will tell you.
Driving with a blood alcohol concentration of 0.08% or greater (in violation of Pasadena DUI laws) is obviously reckless. But you could do worse. Specifically, you could drive DUI while carrying a loaded 38-caliber gun.
Who might do such a thing? Apparently, a state representative in Kentucky!
According to a Fox News report, representative Curry Todd, a Republican from Collierville, was arrested last Tuesday for "possession of a handgun while under the influence and drunken driving." To make matters worse, Representative Todd actually sponsored a law that "made it legal to carry a gun into bars in Tennessee." Police found a loaded 38-caliber gun between the driver's seat and the center console. And an affidavit stated that the representative was "unsteady on his feet," "almost falling down at times" and that Todd was clearly "very impaired and not in any condition to be carrying a loaded handgun."
The Representative made a bail of $3,000 and issued a statement last Wednesday, perfunctorily apologizing for the arrest. One of Todd's colleagues in the Tennessee House, Majority Leader Gerald McCormick, told the press that he was "praying for [Todd]" but that the arrest nevertheless does not change his views on the whole "should it be legal to carry guns into bars or not" question. McCormick told Fox "it is a bad idea to drink and carry your gun, obviously… I don't know the details of what happened with Rep. Todd last night, but I think he would agree with me."
Todd is no stranger to outrageousness. In 2010, Todd drew bitter condemnation from liberal groups and immigration rights groups when he told a Committee Hearing that illegal immigrants are a threat to "go out there like rats and multiply."
Whether and how the arrest might impact Todd's political career – or his ability to carry a gun or drive a car for that matter – remains to be seen. But the arrest holds key object lessons for individuals recently charged with the crimes like driving under influence in Pasadena.
1. Pasadena DUI Stories are More "Newsworthy" If Reporters Can "Sniff Hypocrisy."
Part of what's made this story of Representative Todd's arrest so "viral" is the fact that he personally sponsored a law allowing gun owners to bring guns into bars.
2. Everyone Makes Mistakes.
Representative Todd served many years as a police officer before entering government, so he clearly knew the consequences and perils of driving under the influence. Yet he made a mistake. This illustrates that anyone can make bad decisions.
3. The Past is Past: You Can Only Control What You Do from Here on Out.
As any reputable Pasadena DUI criminal defense lawyer attorney will tell you, you can't change what happened in the past – you can only learn from what happened and make smarter, savvy, strategic decisions to protect your freedom, make reparations to anyone you've harmed, and ensure that you get the help you need.
Attorney Michael Kraut of Pasadena's Kraut Law Group can help you understand your rights and needs. Attorney Kraut is a former city prosecutor with a 99% success rate at jury trials and a Harvard Law School education.

If you have been arrested for a DUI in Pasadena or you are under investigation for driving under the influence in Southern California, please contact Los Angeles criminal defense attorney Michael Kraut for 24/7 assistance by phone at (323) 464-6453 or toll free at (888) 334-6344 or online.