Notable October DUIs – John Stamos, Cre Moore and Tim Chambers
DUI arrests of sports and entertainment figures always make the news, and this October witnessed some serious charges.
The most prominent Los Angeles DUI arrest involved none other than "Grandfathered" actor John Stamos, whom police pulled over after receiving calls about an erratic driver.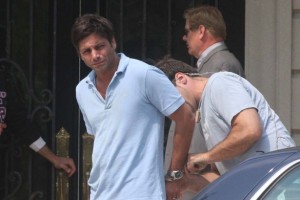 The officers initially took Stamos to a hospital out of concern he had some medical condition. Police later charged slapped him with a DUI; tests allegedly determined that Stamos was under the influence of drugs while operating his vehicle. This misdemeanor charge could result in the former star of Full House spending six months in jail.
The sports world also saw two high-profile arrests this month. Cre Moore, the defensive back for the Kansas State football team, crashed his 2014 Ford F-15 in Riley County, Kansas, around 3 in the morning of October 4th. He left the road, hitting a pole and then a stone wall before coming to a stop. The 20-year-old Moore didn't suffer any injuries, although his vehicle received major damage. But police who went to the scene allegedly did find several pills in Moore's car, and they charged Moore with DUI and possession of depressants.
The head baseball coach at the University of Nevada, Tim Chambers, faces legal and job troubles after his arrest for arrest for driving under the influence on October 6th. After police charged Chambers with DUI, two counts of failure to maintain a lane and a violation of the proof of insurance requirement, the university immediately placed him on an administrative leave of absence until the courts resolve the charges against him.  Chambers is in his fifth year of coaching the UNLV Rebels. The university has a zero-tolerance policy for alcohol for its athletes.
What should you do if you or someone you love faces a serious DUI count? Will you go to jail? Will you lose your license? Call Los Angeles DUI defense lawyer Michael Kraut immediately to understand your options and craft a strategic response.
Have you been stopped for DUI in Los Angeles, contact attorney Michael Kraut at (323) 464-6453 or online. Our team is located at 6255 Sunset Boulevard, Suite 1520, Los Angeles, California 90028.