Miscellaneous Los Angeles DUI News–Crazy DUI Induced Explosion on the 10 and Other Astonishing Stories…
If you thought your Los Angeles DUI arrest was hair-raising, think again.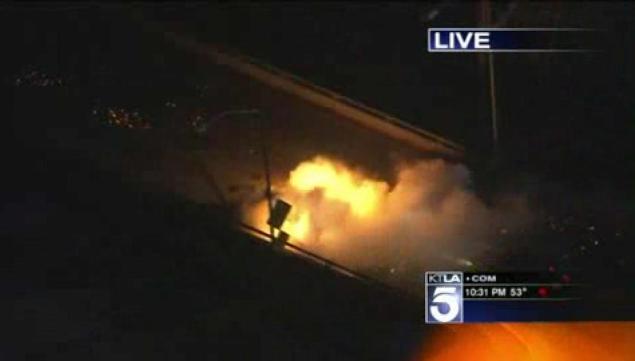 On February 7th, a DUI suspect fled police on the 10 and crashed into the sidewall after losing control of his red Mustang. The car literally exploded and burst into flames. The suspect had been fleeing police. Officers thought he was trying to hop onto the 60 East Bound or try I-5. The man would have almost certainly perished in the fire, but police bravely pulled him from the wreckage–saving his life after they risked their own to get him to stop driving recklessly.
Hopefully your Los Angeles DUI arrest was less fraught and drama filled.
Meanwhile out in Connecticut, 46-year-old Jeffrey Cull got arrested following a string of strange events, involving dumped shingles, laser engraving thievery, and tree hitting. According to local news reports from the town of Monroe, a woman saw a 2009 BMW smash into a tree near her house on a local route, 111. She called police, who found the driver and owner, Mr. Cull. He had a "strong odor of an alcoholic beverage on him." Officers said that Mr. Cull did not cooperate and refused to answer questions. Local police put him through the paces of field sobriety tests, which he failed. He refused the breathalyzer test. In addition to the DUI charge, Cull faces charges for evading responsively in an accident, failure to hold his lane, and driving without auto insurance.
Hopefully, your Los Angeles DUI arrest involved neither your car bursting into flame nor your hitting a tree and then getting aggressive with police after the fact.
But no matter what happened, you are entitled by law to a sturdy defense. The team here at the Law Offices of Michael Kraut can help you understand what you might be facing and develop a strategic Los Angeles DUI defense based on deep knowledge of the law and practical experience.
Attorney Kraut knows how to help drivers like you. As an ex-prosecutor, he maintains excellent relationships with local judges, police officers, and prosecutors–all while providing his Los Angeles DUI defense clients with the highest service. Trust attorney Kraut and his team to guide you appropriately–to make informed decisions–and to avoid getting into further trouble or accidentally complicating your case.

If you have been arrested for a DUI in Los Angeles or you are under investigation for driving under the influence in Southern California, please contact Los Angeles criminal defense attorney Michael Kraut for 24/7 assistance by phone at (323) 464-6453 or toll free at (888) 334-6344 or online.