So You Lost Your California Driver's License After a Los Angeles DUI – What Now?
It hasn't exactly been the best of times, since your Los Angeles DUI stop. But at the very least, you survived the stop and/or accident. Now you're trying to figure out what you need to do to protect your rights and minimize the collateral damage to your life and freedom.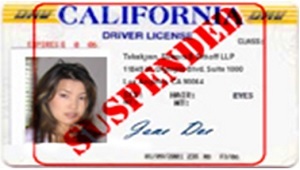 One of the biggest inconveniences you face is the loss of your California driver's license. Whether you lose it for a few days, a few months, or a few years, inconveniences abound:
•    How are you going to drive to and from work or school?
•    How are you going to shop at places like IKEA, Vons, etcetera?
•    How will you drive to social events, like dates and parties?
•    How will you get to LAX?
If you lived in D.C. or New York, your situation would be substantially easier. You could take buses, taxis and trains to go basically anywhere you wanted to go. But in LA, going from "car" to "no car" is not a simple, nor intuitive transition.
Is there a solution? Are there workarounds you can use to get results?
Los Angeles does boast a few train stations and a thriving bus system, so you can "get around." But you might find yourself stranded, isolated, and generally far more dependent on friends and family members. If you are a student, maybe this means that you'll need to drop out for a semester until you get your license back. Or maybe you'll need to move closer to school, so you can walk to classes. If you are a single parent, who is already stretched, you may need to take your kids out of day care or hire yet more help to drive your kids to and from their schools.
The duration of the suspension can also be hugely impactful. If you're only going to be without a drivers license for a few weeks, that might be manageable. For instance, you could ask your boss to let you take your vacation early this year.
The moral is that the outcome of your upcoming California Department of Motor Vehicles hearing could prove pivotal — not just for your short term interests but also for your long term future. If you must move to another part of the city – or quit a job or break off a relationship – due to the Los Angeles DUI inspired license suspension – the ramifications could literally change your life… and not in ways that you'd be particularly excited about!
There is a very short window of time that you have to act to fight your Los Angeles DUI arrest and protect your California drivers' license. Get in touch with experienced Los Angeles criminal defense attorney, Michael Kraut, of the Kraut Criminal & DUI Lawyers right now to set up your free consultation about how to proceed, strategically.

If police stopped you for Los Angeles DUI, you may be worried and anxious. Contact Harvard Law School educated, ex-prosecutor Michael Kraut for assistance at (323) 464-6453 or online. Our team is located at 6255 Sunset Boulevard, Suite 1520, Los Angeles, California 90028.