Los Angeles Dodger Dodges Los Angeles DUI Charge
Last November 14th, LA Dodgers first baseman James Loney was busted and charged with driving under the influence in Los Angeles, after he crashed his Maserati into two other cars on the freeway.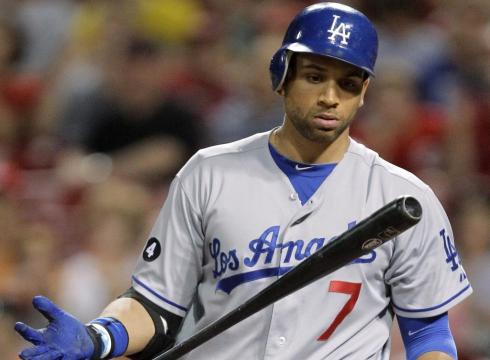 The 27-year old apparently spat a breathalyzer mouthpiece at one of the police officers and demonstrated symptoms that any Los Angeles DUI lawyer would tell you could get you in serious trouble with the law. Per TMZ.com: "Loney's behavior was incredibly bizarre…[he] exhibited eyelid tremors and his shirt was soiled and moist from perspiration, from his armpits down to his waistline."
From the headlines, the case sounded cut and dry. But lo and behold, twists and turns have happened, as they often do, as any established Los Angeles DUI attorney will tell you.
The toxicology reports on Loney came back NEGATIVE. That means the prosecutors do not have evidence to pursue his case. The LA City's Attorney's Office has dropped the matter.
No drugs and no alcohol. Interesting.
Loney's arrest obviously captured the city's imagination. He plays for Dodgers. Also, it's not every day that you see a Maserati spinning wildly out of control and crashing into vehicles on the freeway. Incidentally, Loney just inked a deal with the Dodgers for $6.4 million. Next year, he will be eligible to be a free agent.
But not every LA DUI arrest is as flashy. If you or someone you love was involved in a more pedestrian (meaning: "less dramatic" not "I was walking") experience of Los Angeles DUI, you might wonder how this story could be relevant to your defense.
After all:
A) You're not a first baseman for the Dodgers.
B) You do not (presumably) own a Maserati.
C) You know better than to spit a breathalyzer mouthpiece at a police officer (presumably).
Fair enough. Also, you have no way of telling, from the news reports alone, what actions Loney's Los Angeles DUI attorney did (or did not) take to help him. Obviously, the negative toxicology reports certainly didn't hurt his chances of getting exonerated.
But you should never count on good luck to get you out of a tight spot!
Instead, even if you've been accused of committing a relatively minor offense, like a misdemeanor Los Angeles DUI, in which no one was hurt and no damage was done, you can make a significant progress towards a better outcome simply by choosing your Los Angeles DUI criminal defense attorney carefully.
Michael Kraut of the Kraut Criminal & DUI Lawyers (6255 Sunset Boulevard, Suite 1520, Los Angeles, California 90028) is a highly reputable former city prosecutor (14-plus years as a Senior Deputy District Attorney). He boasts a Harvard Law School education, wide respect from peers (and opponents) in the court system, and an excellent record – nearly immaculate, in fact – at jury trials.

If you have been arrested for a DUI in Los Angeles or you are under investigation for driving under the influence in Southern California, please contact Los Angeles criminal defense attorney Michael Kraut for 24/7 assistance by phone at (323) 464-6453 or toll free at (888) 334-6344 or online.