Glendale DUI Cautionary Tale: Aldon Smith's DUI Arrest and Legal Trouble
Whether you got arrested for DUI in Glendale, after police stopped you for speeding on the 134, or police snagged you at a Pasadena DUI checkpoint near Old Town Pasadena, you're facing a serious legal crisis.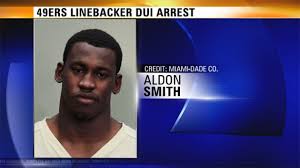 Join the club.
Aldon Smith of the San Francisco 49ers also just got busted for driving under the influence in California, after he smashed his truck into a tree. While such an event would render many people unable to walk or engage in vigorous activity, Smith took to the field against the Colts just two days later… and made five tackles on the way to a 27 to 7 defeat.
Jed York, the CEO of the 49ers, said that the team had the right to play him, despite his DUI: "our opinion is, if you're sitting someone down and paying them to sit down when they're going to seek treatment in the future, we didn't feel like that was an appropriate punishment. We're not trying to circumvent what the NFL will do. This is about making sure that Aldon has the opportunity to work on something, to get better…"
Last season Smith had 19 1/2 sacks – a record for the 49ers, and the second most sacks in NFL. But he's apparently equally aggressive on and off the gridiron.
• In 2012, Smith got into a car accident in Santa Clara County, and he sustained a deep cut on his face.
• In June 2012, Smith and Delanie Walker (also on the 49ers squad) allegedly got intoxicated at Smith's house and shot guns into the air to stop their party. Unsurprisingly, in shooting off their guns in a crowded area, they allegedly hit a man, who later filed a lawsuit against Smith.
The NFL's personal conduct policy takes a Glendale DUI violation (or DUI violation anywhere) extremely seriously. But since Smith's case had not been adjudicated, he was allowed to play against the Colts. Following that game, however, he was put on the non-football-injury leave of absence list.
As we reported in a separate post on Jacoby Jones and Pacman Jones, NFL players have gotten into some horrendous legal turmoil recently. (To refresh your memory, Jacoby Jones got smashed over the head with a bottle of champion (by a stripper, no less!) on a party bus. Pacman Jones, meanwhile, got hit with DUI charges and mouthed off to the officer arresting him.)
But the mayhem is not restricted to the NFL. Taylor Olander, a UConn basketball hero, recently also got suspended, after police busted him for driving under the influence without a license.
If you or someone you love has been arrested for driving under the influence in Glendale (or elsewhere in Southern California), consider getting in touch immediately with an experienced Glendale DUI defense lawyer at the Kraut Law Group. Mr. Kraut is a very experienced Harvard Law School educated ex-prosecutor. He is known for his excellent relationships with judges, prosecutors and other members of the Southern California legal system.

If you have been arrested for a DUI in Glendale or you are under investigation for driving under the influence in Southern California, please contact Glendale criminal defense attorney Michael Kraut for 24/7 assistance by phone at (818) 507-9123 or toll free at (888) 334-6344 or online. We're located at 121 W Lexington Dr, Glendale, CA 91203.