Los Angeles DUI Results in Football Fans and Bloggers Alike Analyze Fallout of Buccaneers Wide Receiver's Arrest
NFL fans and professionals who follow celebrity Southern California DUI news have been heatedly debating the fallout of Tampa Bay Buccaneers wide receiver Mike Williams's DUI arrest. The 23-year old rookie got pulled over two weeks ago in his black Escalade and arrested for suspicion of driving under the influence. Police reports revealed that Williams's BAC tested below the 0.08% Florida (and California) legal limit.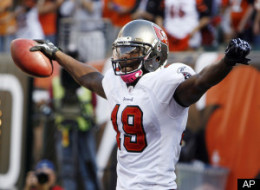 Anyone who has recently been arrested for driving under the influence in Los Angeles, DUI in Burbank, DUI in Glendale, DUI in Pasadena, or DUI elsewhere in the Southland may find the repercussions of Williams' arrest instructive, in that they illustrate how many complications can spring from even a simple DUI arrest — one not involving accidents, injuries or property damage.
Upon learning of Williams's arrest, the Buccaneers management decided to allow him to play in a game against the San Francisco Forty Niners. Williams is the team's leading receiver. Prior to Sunday's game against the Baltimore Ravens (which the Buccaneers lost 10 to 17), Williams had garnered 6 touchdowns and 689 yards.
The Buccaneers head coach authorized his team to conduct an independent analysis to determine whether or not Williams had controlled substances in his system in addition to alcohol. Williams dutifully submitted to this request, and Coach Morris announced: "we gave Mike our own independent test and we are completely confident that he is completely clean."
But the NFL is not necessarily happy with the Buccaneers conduct, and some sports analysts believe that the team violated the league's policy for drug testing confidentiality.
The takeaway here is that, if you or someone you care about has been arrested for DUI in Southern California, even if you are not a major NFL star or a celebrity or politician, you could face serious consequences in addition to the consequences stipulated in the California Vehicle Code Sections relevant to DUI arrests.
For instance, a first time misdemeanor DUI arrest could land you in jail for a minimum of 48 hours, net you serious fines ($1,000 on top of court costs), lead to intense probation terms, and much more. On top of that, you will likely have to deal with unexpected secondary and tertiary (third degree) consequences – just like Williams and the Buccaneers have had to do – such as complications with your personal and business relationships.
Fortunately, Los Angeles criminal defense attorney Michael Kraut can provide a confidential and strategic assessment of your defensive possibilities. Attorney Kraut is a Harvard Law School educated lawyer who has represented clients in some very difficult and complicated Los Angeles DUI matters. As a former prosecutor, Attorney Kraut has the clout, connections, wherewithal, and intuition for the law you need to craft your most appropriate response.

If you have been arrested for a DUI in Burbank or you are under investigation for driving under the influence in Southern California, please contact Los Angeles criminal defense attorney Michael Kraut for 24/7 assistance by phone at (323) 464-6453 or toll free at (888) 334-6344 or online.