Florida DUI Fugitive Found in Panama after 10 Years
When facing a Los Angeles DUI case involving an injury to the other party, consider the story of Samuel Silva, who was recently arrested in Panama after ten years on the run.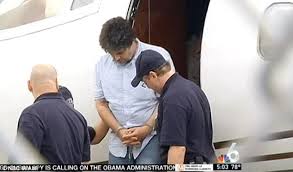 In April 1998, Silva struck the patrol car of Florida Highway Patrol trooper Marissa Sanders, who was conducting a routine traffic stop. The impact pushed Sanders' cruiser into the stopped car in front of it, causing that vehicle's gas tank to explode. Sanders sustained extensive third-degree burns to her legs, the severity of which ended her highway patrol career.
Silva, whose blood alcohol level had tested at double the legal limit, was sentenced in 2001 to 9 months and 5 years in prison. After his appeal and its subsequent denial, the judge ordered him to surrender in 2004 to serve his sentence; however, he never reported.
Instead, Silva used fraudulent passports to escape the country. According to investigators, he traveled throughout Spain, Mexico, and other countries before settling in Panama City. There, U.S. Marshals found and arrested him in May 2014 and brought him back to South Florida.
Although Sanders is surprised Silva has been brought to justice – again – after all these years, she expressed disappointment at his unwillingness to "take responsibility" for his actions.
In California, driving under the influence results in harsher sentences when they lead to injuries of another party. Under California Code Section 23153 (a), driving under the influence is a misdemeanor; with a resulting injury, it becomes a felony. This can cause penalties such as:
•    Prison sentences
•    Restitution to victims
•    Extensive court fines
These punishments increase depending on how many people were injured and the severity. A conviction can also result in job loss, loss of professional licenses, and increased penalties for any future DUIs.
Although facing a DUI with injury is difficult, taking responsibility for your actions is always preferable to running away. A Los Angeles DUI attorney can work to identify mitigating factors and build a defense that will help resolve your case.
Michael Kraut's comprehension of California law and relationships with law officials can help you build a powerful case to avoid a wrongful conviction or harsh sentence. For your free consultation, contact the Kraut Criminal & DUI Lawyers today.

Did you get arrested for a DUI in Los Angeles? If so, contact Los Angeles criminal defense attorney Michael Kraut for assistance by phone at (323) 464-6453 or online. We're located at 6255 Sunset Boulevard, Suite 1520, Los Angeles, California 90028.