Fiery 8-Car Crash Injures 10 in San José
Few individuals facing Los Angeles DUI charges can say they experienced or caused as harrowing an accident as one that recently shook the Bay Area.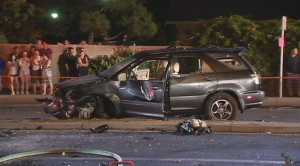 At 9:28 p.m. on Sunday, August 17, police witnessed a black Mercedes speeding down Ocala Avenue in San José. The vehicle ran a red light, broadsided another car, and rolled over repeatedly, striking multiple cars and a light.
Although the Mercedes had been traveling eastbound, the vehicle ended up in the westbound lane and promptly burst into flames. The driver exited the Mercedes and tried to escape before police apprehended him.
The three passengers in the Mercedes all sustained "life threatening injuries" in the San José accident. The driver, an unidentified man in his 20s, also received medical treatment. However, he was released from the hospital and immediately arrested for a felony DUI charge.
Six other individuals experienced injuries from the accident; fortunately, they all appear likely to survive. All told, the crash involved 8 cars and injured 10 people.
Firefighters referred to the collision as a "mass casualty accident." Two alarms summoned one air ambulance and seven ground ambulances.
Authorities have not yet released the driver's identity. However, considering the severe nature of the accident, the number of injuries, and the involvement of alcohol, this individual will likely face considerable legal ramifications.
California law takes DUI accidents with injuries extremely seriously. When a driver's blood alcohol level is at or above 0.08 percent, and this coincides with an injury-causing collision, a judge may sentence the DUI driver to one or more years in prison for each person harmed.
Should any of the injured parties sustain "great bodily injury" or fall into a coma, potential sentences may increase by three to five years.
Regardless of whether your DUI driving charges involve one or ten injuries, a Los Angeles DUI attorney with the Kraut Law Group can help you build a strong defense. Contact us today to learn how we can put our experience in California DUI law to work for you.

Have you been stopped for DUI in Los Angeles, contact attorney Michael Kraut at (323) 464-6453 or online. Our team is located at 6255 Sunset Boulevard, Suite 1520, Los Angeles, California 90028.