Everything You Need to Know About Holiday DUIs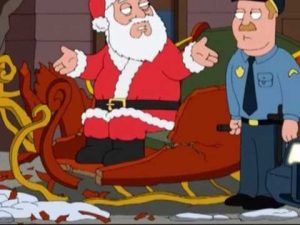 For many of us, the holiday season is intended to be a time for celebrating with family and friends, a time of joy and merriment. However, few things can put a bigger damper on the celebrations quicker than a DUI arrest—and DUI incidents spike considerably over the holidays, compared to the rest of the year.
Here in Southern California, the Los Angeles Police Department has already announced an increased number of sobriety checkpoints throughout L.A., from December 15 through January 1, as part of their "Drive Sober or Get Pulled Over" campaign. Officer Inman of the Traffic Coordination Section explained:
"This holiday season, drivers will notice increased enforcement watching closely for anyone who is driving impaired.… With extra travelers on the roads and people celebrating, we will likely see an uptick in impaired driving. The LAPD will be arresting anyone caught driving impaired."
Police typically increase their sobriety controls during the holidays because the last few weeks of December are notorious for DUI accidents and fatalities. Several factors can contribute to the uptick in DUIs during this time:
• An increase in the number of parties and family gatherings where alcohol is available
• More people taking time off during the holidays and indulging as part of celebrations
• More alcohol consumption by people who don't normally drink and don't know their limits
• A heightened sense of temptation for recovering addicts due to the combination of holiday stress and the events where alcohol is available, increasing the risks of relapse
Aside from the fact that driving after indulging can endanger both you and anyone else around you, you're also far more likely to get arrested for DUI this time of year due to the heightened enforcement. Let's look at a few sobering statistics about holiday DUIs, then follow up with some tips to help you stay safe, and keep your holiday celebrations intact.
Sobering Holiday DUI Statistics
• Twenty-eight percent of people surveyed say they drink more alcohol during the holidays. (Source: Drugabuse.com)
• December has been the deadliest month for DUI-related fatalities every year since 1999. (Source: Drugabuse.com)
• In December 2016, 781 people were killed in DUI-related fatalities. (Source: U.S. Department of Transportation)
• Forty percent of traffic deaths between Christmas and New Years are DUI-related, compared to 28 percent during the rest of December. (Source: NIAAA)
• Teenagers who binge-drink, smoke marijuana and/or borrow other people's vehicles are at increased risk for DUI. These activities all tend to increase during the holidays. (Source: CFAH)
• New Year's Eve is the most likely time to be arrested for DUI in California. According to the Los Angeles Times, the number of DUI arrests on New Year's Eve 2015 doubled in Los Angeles from the year prior (219 arrests compared to 104 in 2014). Statewide, police made 1072 DUI arrests compared to 457 the previous year.
Tips to Avoid DUI During the Holidays
These facts tell us two things: 1) Statistically speaking, you're more likely to drive impaired during the holidays than at any other time of year; and 2) You're more likely to be caught if you do. Let's review some helpful tips to avoid doing either.
Know your limits.
The legal Blood Alcohol Content (BAC) limit in California is 0.08. You can estimate how much alcohol you can consume based on your weight using a BAC calculator or by using a phone app like DrinkTracker. Bear in mind that an estimate is just that—an estimate. When in doubt, get a ride from a sober driver or grab a cab. If drinking makes your math skills fuzzy, don't take the chance.
Estimate conservatively.
Most people think they can handle more alcohol than they actually can, and you can reach the legal limit even before you feel any physical difference. The average 170-pound male can get a DUI after consuming only 3 beers. A petite female can reach 0.08 BAC after just one beer. Whatever you think you can handle—drink considerably less. Otherwise, don't get behind the wheel.
Avoid temptation if you are vulnerable.
While hard numbers aren't readily available, recovery experts generally agree that the holidays can be especially tempting for recovering addicts—and relapses usually result in overindulgence. If you are practicing sobriety, avoid situations where temptation is abundant. Ask a friend to keep you accountable and check in with that person. If you do give into temptation, don't get behind the wheel, even if you don't think you've had too much—because you probably have.
Choose a designated driver
If you plan to indulge with friends, your best fallback for avoiding DUI is to select a designated driver, someone who remains sober and/or who will come pick you up when you're ready to go home. If you don't have a designated driver, call a cab or car service (such as Uber or Lyft), or check into a nearby hotel.
For those out on New Year's Eve, Los Angeles Metro is giving free rides on all its rail and bus lines. And AAA Southern California will be helping out drunk drivers as well.
Give yourself time to recover
Don't be fooled into thinking you're sober because you no longer feel a "buzz." It generally takes about 6 hours to eliminate alcohol from your body after reaching the legal BAC limit of 0.08. Furthermore, contrary to the myth, coffee won't sober you up. It might keep you awake, but it won't reduce your BAC count or make you more alert.
Many DUI arrests occur because a driver thought she'd waited long enough, only to be sorely mistaken when the cops pulled her over. The police don't care how long it's been since your last drink.
Don't let a DUI arrest ruin the holidays. Follow these tips to stay safe and keep the season merry and bright, both for yourself and for those around you. If you are facing a DUI conviction, our legal team can help. Give us a call for an appointment today.