In Emotionally Charged Case, Judge Throws Out DUI Driver's Plea Agreement
Many drivers charged with DUI in Los Angeles end up taking plea agreements – they get charges and penalties reduced by agreeing to admit guilt to lesser offenses. Judges usually accept such deals, but occasionally a new piece of information can change a judge's mind.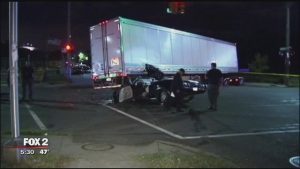 A report on Fox2 in Detroit, Michigan, gave Judge Cynthia Gray Hathaway a different perspective on an accused DUI driver. Hathaway had seen a story about 34-year-old Mlinzi McMillian, who was DUI in 2014 when he hit a semi-truck. The accident killed McMillian's 12-year-old son as well as the younger McMillian's 16-year-old stepbrother.
Although police originally charged McMillian with DUI causing death and reckless driving causing death, the results of the accused driver's blood alcohol test were inconclusive. So prosecutors arranged a plea deal; McMillian would have to serve five years of probation. He never spent a day in jail, and he kept his license.
Although the mother of the two boys accepted the plea deal, the grandmother of the 16-year-old wasn't satisfied. She started a petition on Change.org to get justice for her grandson, and Fox2 picked up the story. The television station did some investigation and found that McMillian had an extensive criminal record.
After Judge Hathaway watched the news report, she did some digging on her own. She discovered that the defense had not disclosed McMillian's previous convictions on six felonies and seven misdemeanors. Rejecting the plea agreement, she sent McMillian to jail and ordered his bond set at $100,000. McMillian withdrew his guilty plea, and he will return to court on June 13th.
Under California law (Penal Code 191.5 (b)), prosecutors might have charged McMillian with vehicular manslaughter while intoxicated. If a court convicted McMillian of a felony offense, the punishment could range from 16 to 48 months in jail and a fine of up to $10,000.
Do you need help defending against a serious charge? Call a qualified Los Angeles DUI defense attorney with the Kraut Law Group immediately.