Driver in Fatal Los Angeles DUI Collision [That Killed 6] Had Been Convicted of DUI
We recently reported on a horrifying Los Angeles DUI story: 21-year-old Olivia Carolee Culbreath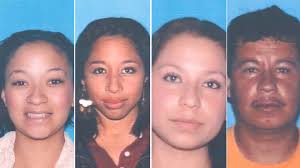 allegedly caused a three car accident in Diamond Bar, which killed six people.
California Highway Patrol authorities say Culbreath had been driving in excess of 100 miles per hour, when she crashed her 2013 Camaro on the 60 Freeway while driving the wrong way. It turns out that Culbreath has a checkered driving history. In April 2010, a San Bernardino juvenile court convicted her of DUI in a previous incident. Before she got her license reinstated in December 2011, officers hit her with two other traffic violations. The California Department of Motor Vehicles says the DMV had lifted Culbreath's license restrictions just a week before the awful, fatal wreck.
Four people in the Ford Explorer she hit — Gregorio Megia Martinez (47), Laticia Ibarra (42), Ester Delgado, and Jessica Jasmine Megia (20) — died. Joel Cortez (57), the driver of the third car involved in the wreck, escaped with just minor injuries. His daughter, Emma Cortez, later told reporters: "he remembers seeing part of an engine that hit him, pushed him against the wall, completely crushing both sides of the car … in shock, the first thing he does is look around. There's a freeway, two cars completely destroyed. And there are bodies on the floor without heads … this is something you'd see out of a movie."
In California, certain DUI cases that lead to death can be prosecuted as "Watson Murders." This charge is the equivalent of second degree murder. If convicted, you face a severe sentence – up to life behind bars. The prosecution must hit a high bar to achieve a conviction.
It's rare for prosecutors to charge someone with a Watson Murder. The majority of these cases involve people who have been convicted of DUI previously. After you are convicted of a DUI, you must sign a statement — known as a Watson Advisement — in which you acknowledge that you understand that driving DUI can cause people to die.
Prosecutors must also prove that you had "implied malice." This basically means that you knew the harms of DUI driving, yet you decided to drive DUI anyway; and then you killed someone while behind the wheel.
Whether you face an egregious charge, like Los Angeles DUI manslaughter or murder; or you face a more minor (but still anxiety producing) charge, like misdemeanor DUI, the team here at the Kraut Law Group can provide thorough, sensitive assistance.

Did you get arrested for a DUI in Los Angeles? If so, contact Los Angeles criminal defense attorney Michael Kraut for assistance by phone at (323) 464-6453 or online. We're located at 6255 Sunset Boulevard, Suite 1520, Los Angeles, California 90028.