Donovan McNabb Spends a Day in Jail for 2013 DUI
You can be the most famous, revered person in America… and still face substantial Los Angeles DUI penalties. No one is above the law.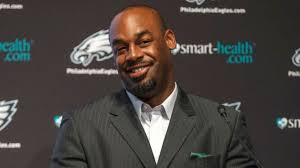 Case in point: consider that the fate of 37-year-old ex-NFL quarterback, Donovan McNabb, who recently completed a one-day jail sentence in Arizona for a 2013 DUI charge. Police pulled over the former QB on December 13 at the Salt River Pima-Maricopa Indian Community, near Phoenix. The police report said that McNabb had been driving 81 miles per hour in a 65 MPH zone at around 3 in the morning on the Loop 101 freeway.
At the time of arrest, the media did not publicize McNabb's stop. So when the Maricopa County Sheriff's office released the picture of the QB's mug shot earlier in the week, the blogosphere (and mainstream media) jumped on the story.
According to reports, McNabb pled guilty on March 27 to the DUI… and got nine days shaved off of his sentence. Joe Arpaio, a local sheriff, said "I've had other high profile athletes who have been incarcerated with no problems, and this latest athlete follows that same pattern."
McNabb was best known as the "Eagle's Quarterback," who led Philadelphia to a string of five incredible seasons from 2001 to 2005. From 2001-2004, he took the Eagles to the NFC championship game. In 2005, the Eagles made it to the Super Bowl but lost to the Patriots, 24-21. While in the twilight of the career, McNabb also played for the Redskins (2010) and Vikings (2011) before calling it quits. He now co-hosts a Phoenix radio talk show. His new employers wrote: "We have discussed this situation with Donovan at length, and we're convinced that he understands the gravity of his offense and is sufficiently contrite. The legal process has been concluded and we plan no further disciplinary action at this time."
The resolution of McNabb's case brings up the critical issue of expungement. With a DUI on your record, you may find it harder to get hired. An expungement can reduce the likelihood that you will face enhanced charges, if you ever get arrested again for DUI or other charges.
California statutes set the criteria for expungement, and these criteria can be complex and dynamic. For assistance trying to develop a defense against a Los Angeles DUI charge or expunging a charge from your record, call attorney Michael Kraut of the Kraut Law Group today to schedule your free consultation.

Have you been stopped for DUI in Los Angeles, contact attorney Michael Kraut at (323) 464-6453 or online. Our team is located at 6255 Sunset Boulevard, Suite 1520, Los Angeles, California 90028.