Did a "Pink Elephant" Cause Your Long Beach DUI Crash, Too?
Your recent Long Beach DUI accident and arrest was humiliating enough.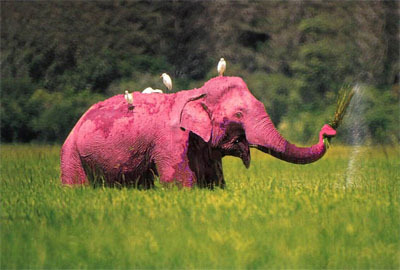 Hopefully, no one got hurt. And hopefully, you did not compound your woes by offering a preposterous explanation for your behavior, like 31-year-old Samuel Phipps recently did when Delaware State Police stopped him on I-95 and hit him with his seventh lifetime DUI charge.
The 31-year-old told State Police that he had smoked a kind of drug known as "wet" – which consists of a marijuana cigarette laced with the PCP – prior to taking a ride in his Land Rover the Friday night before last. As he cruised southbound on I-295, he hallucinated and thought he saw a pink elephant in the road. Thus spooked, he veered off into the guardrail near Route 141.
According to a Delaware State Police statement, the trooper who found Phipps interviewed the driver, who told him "that the accident was a result of… swerving to avoid an elephant he observed running in the path of his vehicle."
Phipps was busted for his unlucky number seven DUI offense and hit additionally with the charge of driving without insurance. Instead of being sent to jail, he was committed to the Howard R. Young Correctional Institution and held on a bond of $21,000.
If, like Phipps, you've been hit with multiple counts of driving under the influence in Long Beach or elsewhere, you could be facing substantial jail time, even if you did not hurt anyone and prosecutors thus cannot charge you per California Vehicle Code Sections 23153(a) or 23153(b).
In fact, as your number of DUI arrest/convictions increases, so does the leverage of prosecutors.
If you get convicted for three DUIs within a 10-year span in California, for instance, your third DUI – which would ordinarily be a misdemeanor – can be charged as a felony count, even absent any other legal violations. Plus, other penalties get ratcheted up: you'll face longer time in alcohol school, a longer license suspension, stricter/longer probation terms, more fines and fees, and likely a bigger spike in your auto insurance rates, assuming that you can still drive and carry insurance.
Of course, if you're getting arrested three or four or seven times for DUI – or for other crimes – you may need more than the help of a good Long Beach DUI defense attorney. You may also need therapy to deal with other crises in your life that may be compelling you to take refuge in alcohol or medications.
The team at law offices of Michael A. DeMayo can help you appreciate what you might be up against and give you practical, sensible, actionable advice.
Learn more about Attorney Kraut's background as a Harvard Law School educated former prosecutor here on our website, or connect with us now for a free, completely confidential evaluation of your Long Beach DUI case.

If you have been arrested for a DUI in Long Beach or you are under investigation for driving under the influence in Southern California, please contact Los Angeles criminal defense attorney Michael Kraut for 24/7 assistance by phone at (323) 464-6453 or toll free at (888) 334-6344 or online.