Cleveland Browns' Fans Hearts Skip a Beat After Johnny Manziel's Bodyguard Arrested for DUI
One of the peculiar aspects of Los Angeles DUI cases is that arrests and convictions can touch dozens, even hundreds, of people and organizations.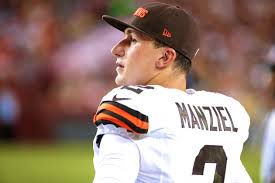 In other words, a single bad decision made by one driver at a single point in time can propagate and create problems – even huge crises – for many other people. For instance, when a star football player gets in trouble with the law, not only can he and his family suffer legal and monetary consequences, but people not connected with the accident – teammates, fans, people who depend on a football team's revenue to power local businesses – can also be indirectly impacted.
Consider that concept in light of a recent story out of Cleveland. Browns QB Johnny Manziel's bodyguard recently got arrested for DUI while driving Manziel's vehicle. The arrest might not have made national news, had Manziel and his friends not just recently been involved in an altercation with an aggressive fan, who approached the star and his entourage with an attitude that allegedly was "very aggressive" and "very intoxicated."
Per the quarterback's agent, Erik Burkhardt, "Johnny and his roommate had been out to dinner earlier in the evening with Johnny's mother, who was staying with him this week. There was no entourage. Johnny and his roommate were trying to get on the apartment elevator at his home, when they were accosted by a very aggressive man and his associates. It was an unfortunate situation."
Under certain circumstances, an associate or friend or spouse or a relative can make a mistake — or engage in aggressive or dangerous behavior behind the wheel — that can redound to affect you and your family. To understand your rights and develop an appropriate legal response, connect with an experienced Los Angeles DUI criminal defense attorney, like Michael Kraut of the Kraut Law Group. In addition to serving for nearly 20 years as both as Deputy District Attorney and a defense lawyer, Mr. Kraut regularly appears as a commentator on shows like Good Morning America and newspapers like the New York Times and the Los Angeles Times.
If police arrested you for Los Angeles DUI, you may feel scared and confused. Contact Harvard Law School educated, ex-prosecutor Michael Kraut for assistance at (323) 464-6453 or online. We're located at 6255 Sunset Boulevard, Suite 1520, Los Angeles, California 90028.