Burbank DUI Sports News: Drake Britton, Star Pitcher for Red Sox, Socked with DUI in Fort Myers, Florida
Some disappointing Burbank DUI sports news: 23-year-old Drake Britton, a left-handed pitcher for the Boston Red Sox, got arrested on March 2 for driving under the influence in Fort Myers, Florida.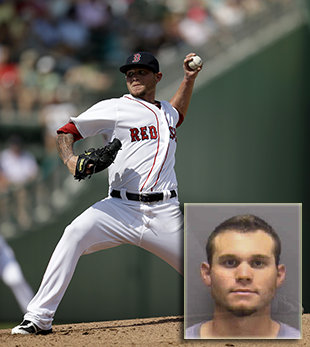 According to the arrest report, Britton made multiple mistakes that may make his case legally fraught and complex. A USA Today article said a deputy saw him speeding and tried to pull over the promising young leftie. Britton then smashed his car into a curb and bulldozered over a fence. Eventually, he stopped and admitted to the deputy that he had been drinking.
The Red Sox later released a statement saying that the team took Britton's arrest "very seriously, and it's being addressed…Fortunately, in this case, there was no one injured, but the bottom line is that it's a very serious issue with us."
Britton paid a $2,250 bond.
Did we mention that he'd been traveling at 111 miles per hour? That's pretty fast!
Unless you're racing at NASCAR or tooling your vintage Mercedes around on the Autobahn, 111 mph is way, way too fast.
What's really tragic – at least for Britton – is that he was just about to start in the Big Leagues, after years of struggling through the Minors. He got drafted way back in 2007 in the 23rd round. Even though he accrued a losing record with Boston's Double-A Portland team (4-7 with a 3.2 ERA) last season, he had wrangled a chance to play in "The Show."
So why did he drive under the influence and potentially wreck not only his car but also his career?
This question would obviously be impossible to answer unless you spent time understanding his personal situation and his psychology.
But it speaks to the diverse causes of Burbank DUI behavior and accidents.
According to cutting-edge psychological research, stressful situations – both negative AND positive – can drive us to self-medicate with alcohol or other substances.
Unless and until you address the root stress or frustration, then you may never fully get rehabilitated. You thus may be at an increased likelihood of getting arrested again, in the future, for driving under the influence in Burbank or elsewhere.
If that happens, your problems can mount.
A misdemeanor Burbank DUI is a serious charge, and it can result in the stripping of your California driver's license for a year, jail time, court costs, fines, insurance spikes, tough probation terms, and worse. When you get arrested a second or third or even fourth time within a 10 year period for DUI in Southern California, prosecutors can pile on more and more charges, and your life can spiral downwards and out of control.
To get a grip on what's caused your turmoil — what caused you to make less than strategic decisions about your driving or to say dumb things to the officer who pulled you over for DUI -– look to the Kraut Criminal & DUI Lawyers. Michael Kraut is an experienced, compassionate, and thorough Burbank DUI defense attorney who has helped many people in similar situations protect their rights and get a fair second chance.

If you have been arrested for a DUI in Burbank or you are under investigation for driving under the influence in Southern California, please contact Los Angeles criminal defense attorney Michael Kraut for 24/7 assistance by phone at (323) 464-6453 or toll free at (888) 334-6344 or online.