Bad Parking Job Leads to DUI Arrest
When police officers are out on patrol looking for drivers who might be DUI in Los Angeles, they watch for vehicles weaving in and out of traffic, veering over the center line and blowing through stop signs and other traffic signals.
In Sommers, Connecticut, however, it was a poor parking job that gave an intoxicated driver away. A passing motorist noticed that the car driven by 56-year-old Brian Benoit of Hampden, Massachusetts, was parked perpendicular to the side of the road. Fearing there had been a crash, the motorist called police. Police found Benoit unhurt but in no condition to pass the field sobriety test that they administered. They charged him with DUI.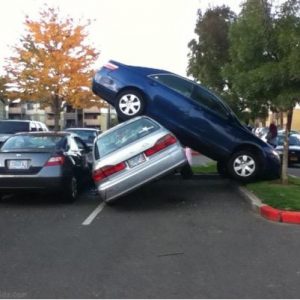 Law enforcement officials in South Burlington, Vermont, would probably have preferred finding an oddly parked car to what they did discover when they answered a report of suspicious activity on a Wednesday afternoon in mid-July. They found 58-year-old William Harman sitting nude inside his parked car. Harman may not have even been aware that his clothing had somehow disappeared; his blood alcohol content measured .235, almost triple the legal limit. Police charged him with DUI as well.
At least Benoit and Harman weren't moving when police picked them up. In mid-July, deputies from the Sumpter County Sheriff's Office spotted 72-year-old Stanley Orzechowski behind the wheel of a Ford Mustang on Old Mill Run. He was driving westbound in the eastbound lanes.
Police did not believe Orzechowski's assertion that he had not been drinking. Since he complained about being diabetic and had an elevated pulse, emergency responders took him to the hospital. The blood sample taken there showed he had a blood alcohol level of .335, four times the legal limit.
Orzechowski refused to sign the citation charging him with DUI, but all that got him was a citation for refusing to sign a citation.
While there are humorous aspects to some DUI arrests, there's nothing funny about the damage that DUI drivers can do to innocent people's lives and property. The penalties outlined in California Vehicle Code 23152 aren't a laughing matter, either; they can cost a driver his/her license, a hefty fine and time in jail or on probation.
What should you do if you or someone you love faces a serious DUI count? Will you go to jail? Will you lose your license? Call Los Angeles DUI defense lawyer Michael Kraut immediately to understand your options and craft a strategic response.