Using Technology to Avoid a Repeat Domestic Violence Arrest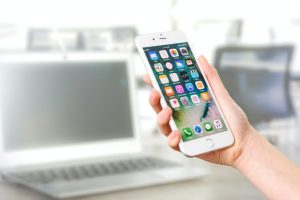 If you've recently been arrested for and/or charged with domestic battery, stalking, or other forms of domestic violence, you already know what a disruption it can be to your life and your family. Of course, your first course of action is to navigate this process with the help of an experienced attorney–but when the initial crisis is over, your next most important step is to find ways to avoid a repeat incident. 
Fortunately, as with so many other problems in our lives, the digital age now offers solutions that we didn't have even a few years ago. Let's explore some technological innovations you can leverage to help you address the issues that may have caused this incident, move past this crisis, and, most of all, avoid future incidents.
Helpful Mobile Apps
Of course, there are plenty of smartphone apps available (such as Aspire News and myPlan) to help domestic violence survivors get help quickly. But there are also other practical apps that domestic violence defendants can use to manage anger, identify and avoid potential triggers, etc. Most of these apps can be found in the app stores for iOS and Android. Examples include, but are not limited to:
Headspace.

Headspace is a mobile application and online platform dedicated to improving mental health and wellness through mindfulness and meditation. The app offers guided meditations, animations, articles, and videos covering various topics, including stress, anxiety, sleep, focus, and physical health. There are also "SOS" sessions for moments of acute stress or anxiety. These practices can be very useful for building self-awareness and changing your relationship with negative emotions that might trigger violent eruptions. It's free to download, but it's worth the $12.99/month or $69.99/year to get access to the premium content.

Sanvello Health.

Sanvello is an app that offers comprehensive self-care, coaching, therapy, and community support services to support mental and emotional health. It's an excellent resource for processing anger and developing anger management techniques, among other things. It's free to download and use, but what's great about the app is that many healthcare plans cover its premium features.

MoodKit.

MoodKit is another excellent self-help app for managing anger, depression, and anxiety. Designed around the principles of cognitive-behavioral therapy (CBT), this app provides tools for tracking moods and thoughts, identifying patterns and triggers, learning relaxation techniques, and developing better coping mechanisms. Cost: $4.99.

AIMS.

This unique app is developed by the Veterans Administration and is specifically designed to help veterans and service members with anger management issues. However, it's an incredibly useful tool to help anyone who has trouble with anger management (especially considering PTSD is a common trigger of bursts of anger). The app is built around the Anger and Irritability Management Skills online self-help course, which can be found

here

. You get access to resources to learn about anger, access to support, the option to create a plan to manage your anger, tracking of your anger, and tools to cope with angry outbursts. Cost: Free!

BetterHelp

. Offering a quality, affordable alternative to therapy, the BetterHelp app is an e-counseling platform that connects you virtually to a qualified, vetted psychologist licensed in your state. You're given a weekly virtual one-on-one counseling session with your therapist and unlimited messaging, all for a monthly price that is considerably less than most hour-long therapy sessions. This provides a potentially effective solution for getting one-on-one help in identifying and changing domestic violence triggers, along with immediate assistance in urgent situations. 
Telehealth Services
While telehealth services became an absolute necessity during the pandemic, they continue to help provide non-urgent healthcare online. Many therapists also use telehealth services to offer online counseling sessions to patients who are outside their immediate area or desire counseling from the comfort of their homes. These services offer virtual appointments with psychologists or counselors who can provide guidance and strategies to manage anger and avoid violent behaviors. If you have health insurance, start by checking with your provider to see what telehealth platform(s) they work with and therapists covered by your plan. You can also check the Psychology Today directory for licensed therapists to provide online counseling in your area.
Online Support Groups and Forums
The internet provides a vast network of support groups and forums where individuals can share their experiences and seek advice anonymously. These platforms serve as a safe space for introspection, understanding, and change–and they can be incredibly helpful for people trying to deal with domestic violence triggers. Mensgroup.com is just one example of a resource offering online support groups.
Wearable Technology
The emerging technology around wearable devices is offering great promise for helping with a variety of health and wellness issues. We're well aware of devices like FitBit and Apple Watch that track our movements for exercise purposes, but these and other devices can also monitor physiological changes like respiration and heart rate, and they can alert users of heightened stress or anger levels, helping them take proactive steps to calm down before reaching a tipping point. Some wearables, like Apollo, even claim to use low-frequency impulses to promote calm, reduce stress, improve sleep, and more.
Finally, a Word of Caution…
While these technologies can be amazing for helping you deal with issues and prevent reoccurring incidents of violence, you should be cautious and skeptical about using an app or a website to obtain legal advice, especially if you're accused of a domestic violence crime. While attorneys in fact run some of these companies, they typically can't speak to the specific strategies needed for you to deal with the immediate crisis at hand. If you're currently facing accusations of domestic violence, there's no substitute for hiring an experienced California criminal defense attorney to help you navigate the court system effectively. 
For compassionate, skilled legal domestic violence defense in Los Angeles, we are here to help. Call our offices to schedule an appointment today.