Los Angeles DUI Sports News: Erin Henderson (of the Vikings) Arrested Yet Again
Whether you were arrested for DUI in Los Angeles recently – or you're just a sports fan who's rabidly obsessed with the NFL – you may have heard that Minnesota Vikings linebacker, Erin Henderson, just got arrested after a nasty DUI crash in Minnesota.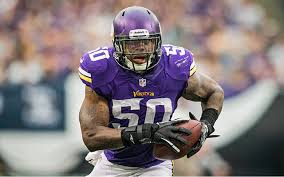 The six season veteran drove his black SUV off the road in Carver County, scraped across a grassy landscape, sailed across a parking lot, and then smashed into a copse of trees. The SUV's front was "heavily damaged" in the crash.
The Vikings had a less than stellar season, as exemplified by a late season game against the Baltimore Ravens, during which the two teams traded a pair of touchdowns in the final two minutes of the game. (The Ravens won that battle… only to get knocked off by the Bengals in the last week of regular season play).
As for Henderson, he, also, struggled off the field before this latest DUI arrest. On November 19th, police arrested him for possession of controlled substances and probable cause DUI. As for his latest arrest… he now faces second and third degree DWI (the Minnesota equivalent of Los Angeles DUI) as well as charges of breath test refusal, possession of drug paraphernalia, possession of marijuana, and violation of driver's license suspension.
He posted a $12,000 bail, and he'll head to court in early March to face the charges.
Despite Henderson's impressive season – he nailed two interceptions, started 12 games and racked up 5 sacks – insiders suggest that his days with the Vikings are numbered and that he will be released after the Super Bowl's transaction moratorium ends.
After his November 19th arrest, Henderson expressed remorse: "it is a strange situation, but I really can't go into too much detail and depth right now as far as legal matters go… will kind of let the things play out the way they will. I am sure you guys will learn more in the future, but at this point right now I am not at liberty to discuss…"
Many people who face charges like DUI don't understand what they're really up against and what they can do to minimize punishment. Fortunately, if you or someone you love faces a Los Angeles DUI charge, you can turn to the experienced team here at the Kraut Law Group for a personalized, customized, and strategic defense.
Did police stop you for driving under the influence in Los Angeles? Contact DUI defense attorney Michael Kraut for assistance at (323) 464-6453 or online. We're located at 6255 Sunset Boulevard, Suite 1520, Los Angeles, California 90028.