If Only Your Glendale DUI Punishment Would Be as Lenient: Pittsburgh Steelers' Alameda Ta'amu Faces Two Games without Pay for DUI… and 14 Other Criminal Charges!
After recently getting arrested for driving under the influence in Glendale – and possibly for other charges on top of that – you face a scary and, quite frankly, fraught legal future.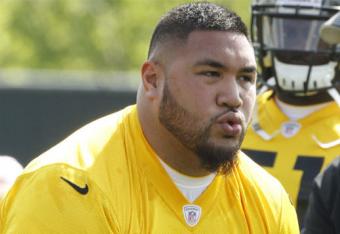 But the world is unfair.
Sometimes, people can commit truly egregious actions and receive little to no penalties. Consider, for instance, the Pittsburgh Steelers' Alameda Ta'amu, who was arrested early Sunday morning (i.e. Saturday night) for 15 separate criminal charges, including DUI, aggravated assault, misdemeanor accident causing damage, resisting arrest, felony fleeing police, and other assorted "bad stuff."
A sports writer for the Pittsburgh Tribune-Review suggested that the Steelers should have cut Ta'amu for the DUI incident. But the management decided just simply to dock his pay for two games. Mike Tomlan, the Steelers' coach, told a local radio station "we deem his actions as a detrimental effort and we are treating it as such… the other ramifications and so forth of the situation, I am not at liberty to discuss at this time, but we thought it was very important that we act quickly in terms of addressing this and we can focus our efforts on the men that are planning and getting ready to meet this week's challenge… Obviously, it's a disturbing incident, one that we take seriously as members of this community."
How does this all relates back to your Glendale DUI charge?
If you committed far fewer violations than Ta'amu allegedly committed, you can nevertheless wind up with a variety of unpleasant punishments, not limited to a long time behind bars; huge fees and fines; a tremendous spike in the amount of money you pay for car insurance, if you can still get a car insurance; a suspension of your driver's license; intense probation; and damage to your reputation at work and your social life that may take months or even years to rebuild.
Your Glendale DUI situation may seem unfair – and you may feel a range of emotions including but not limited to depression, overwhelm, frustration, fury, and helplessness. The key to moving forward in your life is to start to understand what options might be available to you.
To that end, you may benefit a lot by getting in touch with attorney Michael Kraut of Glendale's Kraut Law Group. As a Harvard Law School educated ex-prosecutor of Glendale DUI crimes, Mr. Kraut understands on a firsthand basis how prosecutors will likely treat your case, and he can develop a DUI defense that's most appropriate and that has the best chances of getting the best results.

If you have been arrested for a DUI in Glendale or you are under investigation for driving under the influence in Southern California, please contact Los Angeles criminal defense attorney Michael Kraut for 24/7 assistance by phone at (323) 464-6453 or toll free at (888) 334-6344 or online.