DUI Driver Shuts Down BART Service
Accidents involving drivers DUI in Los Angeles can snarl highways and city streets, resulting in backups that prevent motorists from reaching their destinations for hours. Involve a mass transit system like BART in a DUI crash, and the potential for transportation headaches gets even larger.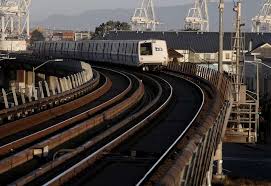 Opara Maurice Green crashed through a crossing gate and ended up running his 2006 Toyota truck onto BART's tracks in West Oakland around 7:40 p.m. on Wednesday, July 20th. Green was lucky; the operator of a San Francisco-bound BART train was able to stop before hitting the truck. (Fortunately, no passengers suffered injuries in the unscheduled rapid stop.)
Police called to the scene reported that although Green had no injuries, he did appear to be intoxicated. A blood alcohol test confirmed their suspicions; Green's measured 0.16, twice the legal limit. Green got a police escort to Santa Rita Jail in Dublin, and the BART train passengers got to sit on the tracks for an extra 90 minutes waiting for responders to clear the track. (BART reported major delays on its system due to the stalled truck.)
Of course, Los Angeles has had its share of DUI incidents involving mass transit vehicles. Last May, Freddy Ceja, an aide to an LA City Councilman, collided with a Metro bus. Fortunately, this bus was parked and not in service. The 36-year-old spokesman for Councilman Gil Cedillo has had three prior DUI arrests in the past 13 years.
Under California's vehicle codes, drivers of personal vehicles, including Green and Ceja, may face charges of DUI if their blood alcohol content measure 0.08 or greater. But drivers of commercial vehicles like Metro buses and tractor trailers have to meet a much tougher standard. Vehicle Code 23152(d) says their limit for BAC is only 0.04 percent.
Designing and executing an effective defense against DUI charges (even simple ones) is not intuitive. Fortunately, you can trust the seasoned, highly successful Michael Kraut. Call a DUI lawyer in Los Angeles with nearly two decades of experience.