Hollywood DUI Debacle: "Scantily Clad Stuntman" Crashes in Florida
Hopefully, your Hollywood DUI arrest was less embarrassing than Grady Bishop's.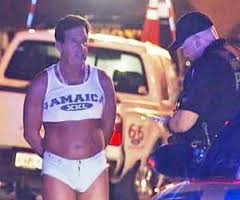 According to reports from Central Florida TV Station Channel 9, the 51-year old stuntman smashed his pickup truck in Orlando into not one… not two… but THREE different cars… before banging into a light pole AND a parking meter.
The topper?
He was dressed in an itsy bitsy, teeny weeny crop top and shorty shorts get-up that left practically nothing to the imagination.
As the owner of a local "extreme stunt and driving team," Bishop may have a difficult legal fight on his hands, if reports from the Orlando Sentinel bear out. According to the paper, police heard about a late night hit and run accident near West Church Street and South Orange Street. They tracked down the disturbance and found Bishop's pickup stranded in the middle of an intersection. The trail of devastation — at least upon first reflection — was estimated to be over $10,000.
If you took and failed a Hollywood field sobriety test, you probably can relate to what happened next. Police put Bishop through the paces of FSTs. He "nearly fell down twice" and failed to follow police instructions. Bishop also exhibited signs of alcohol consumption — similar to the symptoms of Hollywood DUI that police officers might have noticed on you — such as the odor of alcohol and slurred speech. Police tested his blood alcohol concentration at over 0.19% — nearly 2.5 times the legal limit for Hollywood DUI (and Florida DUI) of 0.08% BAC.
The strange, exhibitionist nature of this crash and arrest speaks to a less amusing but still key lesson. And that is this: When you get into a crash, your life and your troubles are often laid bare in a very public way. Not only can you face DUI penalties (license suspension; jail; mandatory alcohol classes; spikes in your insurance, etc), but you can also face humiliation, self-esteem problems, and shame.
One of the best ways to deal with these troubling and diverse issues is to get in touch with an experienced Hollywood DUI criminal defense attorney, like Michael Kraut of the Kraut Law Group. Attorney Kraut and his associates have developed precise systems to help defendants like you confront and manage complex charges and get their lives back under control.

If you have been arrested for a DUI in Beverly Hills or you are under investigation for driving under the influence in Southern California, please contact Los Angeles criminal defense attorney Michael Kraut for 24/7 assistance by phone at (323) 464-6453 or toll free at (888) 334-6344 or online.